- Mr.decor will present key issues that we will learn step by step about "the knowledge needed to research and analyze customer requirements and goals". You can use it as a check list and keywords so you can find out more on google yourself before Mr.decor updates the new posts.
The basic knowledge about architectural design

Outlines, color layouts

 (as intensive as possible)

Methods of arranging objects in space

The standards of interior design

Basic lighting design in interior design

 (lighting design is a separate discipline)

The interior design styles in the world

Thinking of interior designers

Materials in interior design

Feng shui in architectural design and interior design
1. BASIC KNOWLEDGE ABOUT ARCHITECTURAL DESIGN
 - The first and necessary requirement for an interior designer is when stepping into a space required by the investor or simply entering a cafe, it must be visualized in a total way. overview of architectural space layout, functional subdivisions in each building, advantages and disadvantages of existing architecture. So mastering some knowledge of architectural design is essential (if you can go deeper into architectural design, it is too great). Architectural design is a very broad knowledge industry, so mr.decor will help you select the knowledge needed to serve the interior design industry.  
  1-1 Learn about basic architecture records
 - Drawing of g- shaped face is a flat cut of the house Imagine   cutting off the top of the house (this part is usually 1 m above the floor), the ground is a top-view projection of the rest of a floor of the house on the flat. Each floor has a separate ground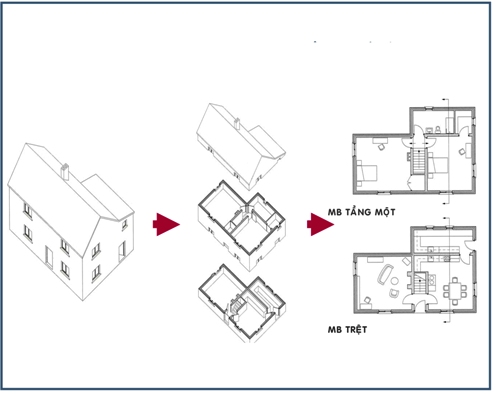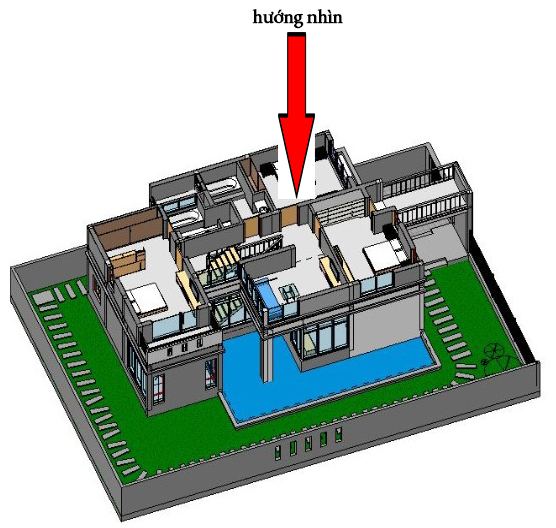 Illustration of the rest after cutting out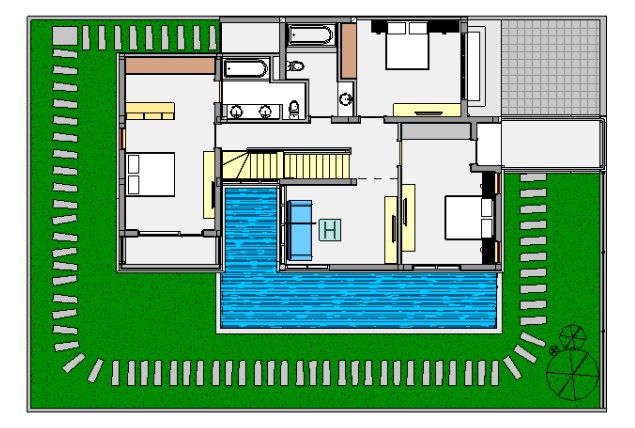 The dimensional image is viewed from above
 - An interior design dossier will include the following basic types: floor plan, floor design plan, interior layout plan, completed wall plan, ceiling design plan, floor plan lighting plans, ground of the switch socket, may generate some other ground depending on the characteristics of each project, but you just need to know these types of premises are okay. To go into each specific type of eyes, you should use the keyword "what is the name of ground +?" Searching on Google, most of the documents are relatively accurate, but after searching, I still have questions to comment below, I answer in my power
- The vertical drawing  is a vertical projection along the vertical axis, showing the external shape, proportions, layout, overall overall dimensions, specific dimensions of each part of the house, and annotations of construction materials. Different perspectives, we have different views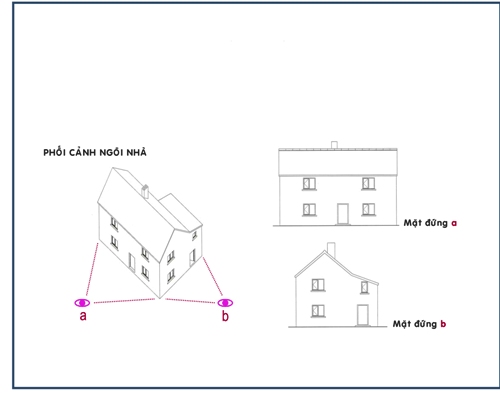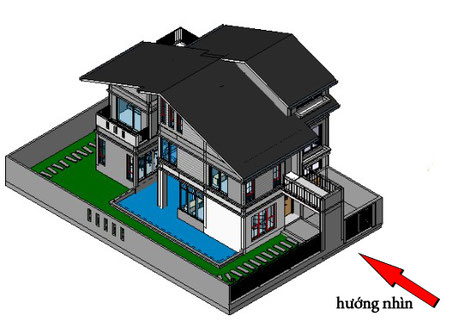 Illustrate the view direction creating the facade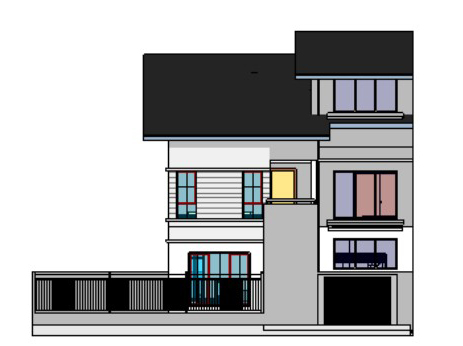 Illustration of vertical drawing
 - A sectional drawing  is a vertical projection along the vertical axis obtained using the conventional plane cut from the top down across the house (perpendicular to the ground). Section shows the interior space, building height, number of floors, height of floors, door openings, wall dimensions, beam height, floor thickness, rafters, roof decks, stairs, etc. Decorate architectural details inside the rooms. For sectional drawings in interior design, the section also shows dimensions, materials, arrangement of objects, finishing materials of each wall array, each side of the designs in space.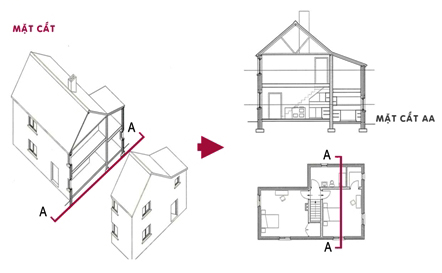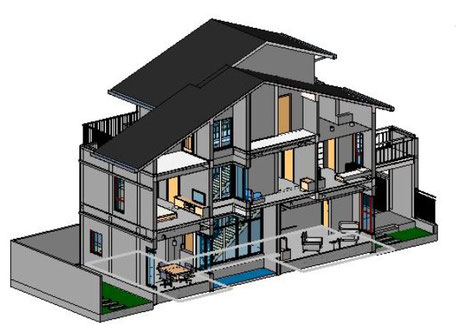 Illustration of the cutting position of the conventional plane
Illustration of sectional drawing
- This is the basic knowledge of architecture to master, to be able to go on to the following articles, I want to go deeper then I will have a "How to desire construction documents of an internal design project the seventh". Any table that already knows the basics can download an "how to deploy architectural profile" document at the end of this article.
1-2 Division of space in architecture
 -  First we need to know what is architectural space? because architectural space and interior space are always closely related. Concept:  space that is created, built or intervened by human hands is called architectural space (in short, so to speak).  
 - If you do learn some other documents when talking about space, most will go specifically to the space of houses, living rooms, bedrooms, kitchens ... but other spaces star? (bar, restaurant, hotel, cafe .... as Mr. Mr. mentioned inPART 1 ) so mr.decor will lead you to the guide for more general spatial division formats, to Based on that, it can be applied to different types of interior space.
 

Main space

 : L is

 the space that serves the needs of the main function for each type of building. 

As simple as a house, there is a living room, a kitchen, a living room, a bedroom, .... or a cafe, there is a seating area, a service area ... post later. 

The developers often focus on these spaces

Extra space:  

 These are not construed as "For main spaces", are the parts used to support the main functions according to each type of construction. 

Traffic space:

 is the space whose main function is to serve for moving and circulating such as lobby, corridor, stair ... 
- To divide the interior space we rely on the following factors.
Functional factors:

 Considered a top priority factor, Arranging arrangement of the interior spaces of the building so that it satisfies basic requirements on the main function of the work and creates favorable conditions for Human life => Put yourself in the position of a user to realize the necessities of entering space.
Aesthetic elements:  

 The aesthetics of an interior design depends on the color, layout, materials, material finishes and intentions of the designer. 

(hint: each keyword with an attached link will lead to a more detailed article)
* Website download high quality 3d models =>  3dsfile.com